Page 1 of 4
1. Circle; Arc
Figure D-1 is a diagram of a circle and Equation D-1 is its equation in terms of North and East coordinates.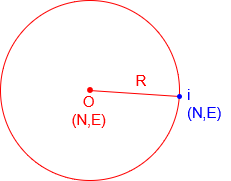 Figure D-1
Circle
Equation D-1
where:
 

O
i
R

  radius point
  point on circumference
  radius
An arc is a portion of a circle, Figure D-2.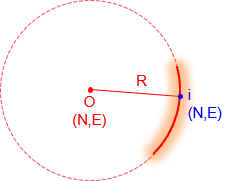 Figure D-2
Arc portion of a circle
Generally we only need an arc long enough to meet an intersection condition. We'll cover other specific arc geometry in the Curvilinear Traverse chapter.