Page 1 of 5
1. Preliminary Calculations
a. Survey Data
This chapter covers measurements reduction for a UTM cylindric zone.,

The survey data and UTM grid information for point Jerry are summarized in Figure L-1 and Table L-1.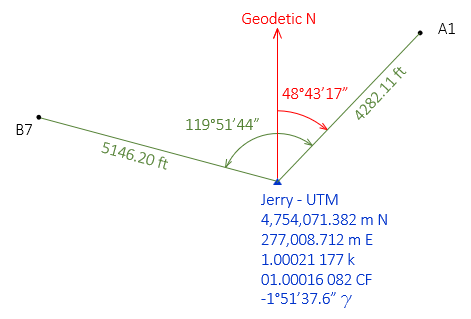 Figure L-1
Survey Data
Table L-1
Orthometric Heights
Point

H, ft

Jerry
1177
A1

1805
B7

1340
b. Lengths, Coordinates and Orthometric Heights
Convert lengths and orthometric heights to meters; compute approximate UTM coordinates of A1 and B7.

Point A1

Point B7

Point Jerry
From its datasheet: orthometric height is 358.6 m.