I began my career as a surveying instructor in 1979, retiring (for the second time!) in 2020. I taught at the University of Wis - Platteville, Purdue University, Penn State - Wilkes-Barre, and Madison Area Technical College, and presented workshops and seminars since 1984. I've also worked with the NGS, BLM, WisDOT, Wis Dept of Reg and Licensing, and done consulting.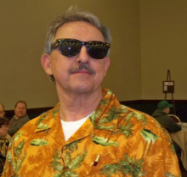 While I've taught technical and legal aspects of surveying, I really enjoy presenting and learning more about the legal side. How boundaries were created, actions people took with respect to them, and subsequent re-establishments are the footsteps the contemporary surveyor must follow. While looking to the past, today's surveyor must also be aware he/she is creating new steps for future generations to follow.
It's easy to get caught up in surveying technology. The fastest most "accurate" measurement is meaningless if you measure the wrong thing. We can't always use technology to answer a legal question. Sometimes, that gets forgotten. Remember that the next time you encounter a monument "nest" at a corner location.
For more additional background information, please see my LinkedIn profile.
updated 09 Jul 2021