Page 1 of 8
1. Nomenclature
A vertical curve is used to provide a smooth transition between two different grade lines, Figure B-1.

Figure B-1
Adding a Vertical Curve
The parts of the curve, Figure B-2, are: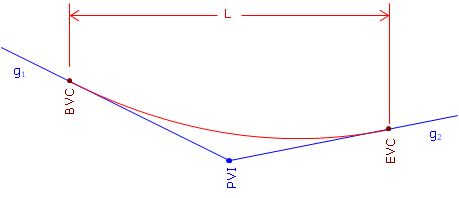 Figure B-2
Curve Parts
| | |
| --- | --- |
| PVI | Point of Vertical Intersection (aka PI) |
| BVC | Begin Vertical Curve (aka, BC, PVC, PC) |
| EVC | End Vertical Curve (aka EC, PVT, PT) |
| L | Curve Length |
Distances, including the curve length, are horizontal, not along the grade lines or curve.
An equal tangent vertical curve is used. This places BVC and EVC equidistant from the PVI, Figure B-3.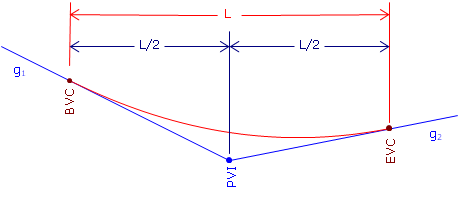 Figure B-3
Equal Tangent Vertical Curve
The curve is tangent to the grade lines at both ends to provide a smooth transition between the grade lines and curve.
The stations and elevations of the BVC and EVC are determined from Equationa B-1 and B-2:
| | | |
| --- | --- | --- |
| | | |
| Equation B-1 | | Equation B-2 |
Because grade ratio and percent differ by a factor of 100 as do distances in feet or stations, care must be taken to use the correct form of each in Equations B-1 and B-2. If g is in %, then L must be in stations, if g is a ratio, then L is in feet.